Photography is my favorite method of expressing creativity and interpreting reality of the world around me. The opportunity to capture brief glimpses of light, texture, form, contrast and color is never ending and certainly challenging. From the wondrous to the mundane, each photo represents a personal reflection of a brief moment in time.

Sometimes a 'snap-shot' is soley for remembering the moment in an unique place and/or environment, without regard to form or technique. Many of my favorite pictures were impulse - one shot, one of a kind photos.

Digital technology presents multiple of additional challenges, yet provides an expanding potential for creating images, exploring new ideas and flexing creativity.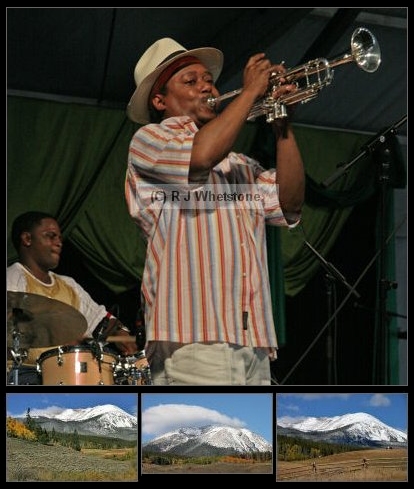 New Orleans Vocalist and Trumpeter Kermit Ruffins
performs at the New Orleans Jazz & Heritage Festival
With my first digital camera, over three years ago, I became engrossed the new technology. While traveling the US as a manager and trainer of field reps for a major photo printer manufacturer, I began 'developing' my knowledge base for digial imaging. Mastering photo printing was eclipsed by the amount of time spent learning the various computer software packages as well as learning the mechanics and technology of a digital camera.
The majority of the photos are shot with an Olypmus 5050, however after September 2005 I graduated to a Canon EOS 20D DSLR with a Canon EF-S 17-85mm and more recently a 70-200 EF f2.8 IS lens. Add another SLR, two more lens, strobes, additional lighting - the equipment list keeps growing larger...
The process is always exciting and inspiring. The quality of images I see from many photographers have spawned a greater appreciation for the world around me and caused me to re-evaluate and subsequently appreciate, even more, the bountiful world of images.
As an avocation, these photos represent a continuing journey of exploring and observing. It is my hope that you find some of the images enjoyable, entertaining and/or thought provoking.
R.J. "Richard" Whetstone
Purchase my photos online...
new images being added daily