Jeff Beck is a name synonymous with the electric guitar.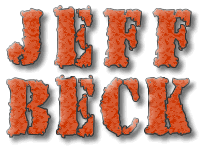 With
YOU HAD IT COMING
. Beck's latest album during his three-and-a-half decades as an Epic recording artist, his name becomes tantamount to innovation, as the guitarist continues to experiment with modern, cutting-edge music.
YOU HAD IT COMING
finds the legendary British musician further enthralled by the nature of sound.
"It's almost a chosen path for me by someone else, because I was never a singer," Beck says of his songwriting. "Without a vocal, you've got to concentrate on what people hear. Sound is everything."
The predominantly instrumental album is bounded by a collage of drum loops and digital-age wizardry, all at the service of Beck's signature guitar playing.
"I view technology as a friend - there's no use messing around with enemies," he says. "I first ran across some electronic music 30 years ago, and I assumed it would be coming along much sooner than it did. I thought, 'If only you coufd get that sound on a guitar.'"
Who Else!

The outcome of his prolonged interest is YOU HAD IT COMING, a project that combines the tones and technology of the new millennium with the skill and credibility of experienced hands. After releasing last year's Grammy-nominated Who Else!, Beck's first album of original music in a decade, the musician spent much of 1999 on tour with his newly assembled band. This was quite an about face for the celebrated guitarist, who hadn't been particularly prolific during the previous two decades, instead consuming time through his other passion of tinkering with vintage cars. But a subtle revelation paved the route for back-to-back recordings.


You Had It Coming
Record Label: Epic
Originally released: Feb. 6, 2001
"It was trying to come to terms with the fact that! didn't want to stop playing," he admits. "The thing looking me in the face was, 'If you don't play Jeff, you're not going to play.' After 120-odd gigs, including people's back gardens in Italy, I didn't want to go all through that for nothing - to lose track of the band and go into recession again."
Quite the opposite happened, with Beck holing up in London's Metropolis Recording Studio with his band (guitarist Jennifer Batten, bassist Randy Hope-Taylor and drummer Steve Alexander), programmer Aiden Love and producer Andy Wright. ("Andy, we call him 'the trawler,"Beck quips. "Because everything I play he trawls through, like a fishing boat, to get all the good bits.") The collaboration resulted in a record that joins the distinguished pantheon of his prior milestones: Truth, Blow By Blow and Wired - still among the best selling guitar albums of all time.
Opening YOU HAD IT COMING is "Earthquake," a tune emblematic of Beck's new approach, fueled by a hammering distorted riff that alternates time signatures between 6/4 and 5/4. The tumultuous tune is so named because "an earthquake represents the opening up of a new world, whilst giving the old one a good shaking."
Beck returns to his roots with "Rollin1 and Tumblin1," a swampy blues gem that has inspired previous interpretations by Muddy Waters, Cream and Canned Heat. "Rollin1 and Tumblin1 is something which has been lurking in my cupboard for 25 years," Beck says. "I've wanted to do a hot-rod version of that, but the drummers were never right and the singers weren't there." Beck found his ideal vocalist in Imogen Heap, a young Londoner whose scorching take on the tune was recorded in one pass.

Perhaps the quirkiest cut is "Blackbird," which finds the ex-Yardbird collaborating with an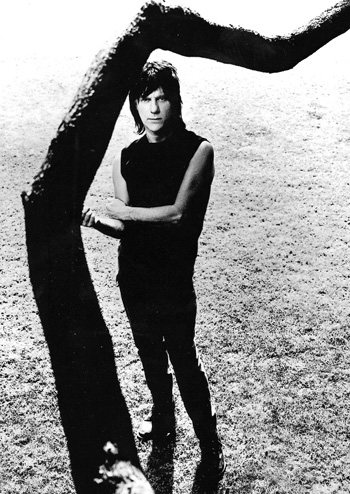 unnamed feathered friend. "Round about spring, a blackbird sings loudly up on my roof," he says. "Although I didn't record that bird, I got a tape of a blackbird and started jamming with him. If you listen, the notes the bird is singing are almost beyond human hearing, but the actual punctuation and tonal things are there. I aped the bird as close as I could, and we all had a good laugh with that one."

The guitarist considers YOU HAD IT COMING'S standout track to be "Madia," written by Indian musician Nitin Sawhney, whom Beck describes as "a genius - like an Asian Stevie Wonder." Beck remembers first shuffling through Sawhney's CD while driving home. "I couldn't believe the diversity of the tracks. I stopped on 'Madia' and I almost crashed the car, because it was such a refreshing, almost commercial, Indian song. I started whistling bits of it, then I thought, 'What am I waiting for? This is custom made for me.1"

Not one to employ an arsenal of custom-made gear, Beck stuck with a single guitar and amp (a modified white Fender Stratocaster and a Marshall JCM 2000} for the majority of the recording. It's still a mystery how he can pull so many sonic elements out of such a limited setup. But that is an enigma that has applied to the guitarist for decades.
Beck has been credited with inventing techniques and sounds that are so common within the rock lexicon that it's difficult to envision the style without it. He is regarded as the first rock guitarist to use distortion and Eastern-influenced droning riffs, as well as the earliest to popularize the talk box (called a mouth bag in England), years prior to Peter Frampton's "Do You Fee! Like We Do." Has Beck ever invented something he didn't get credit for?

"I suppose the most unnoticed in my style, and probably the best things, were some of those slippery licks," he says. "The illusions that I can do with some triplet scales, people have sort of brushed them aside for something more gimmicky - which is something people will do. Jimi Hendrix gets remembered for setting fire to his guitar almost more than for playing it."

So is Beck the world's greatest living rock guitarist? "Nope," he says emphatically. "That's the most ridiculous thing to start those kind of sweeping titles. I don't see why everybody has to make everything the best. 'Is it the best? Is it the fastest? How fast does this car go, mate?1 It's not a contest. We're all different. It's like asking which is the best breakfast. It's not a question of that; it's what you fancy. I'm not in the business of making self-appraisals. As long as there's something original going on, that's all that really matters."